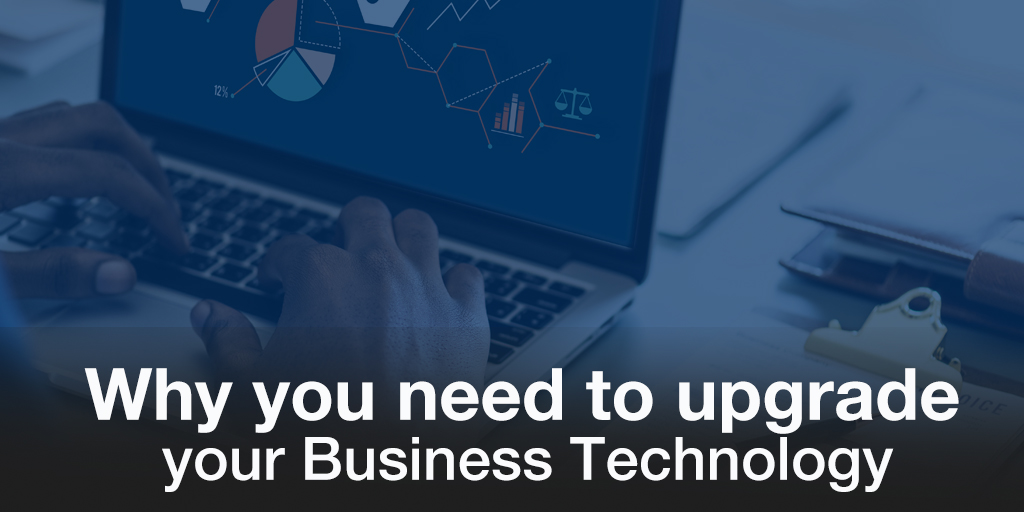 Technology is evolving in leaps and bounds, and although it's imperative to consider the type of business you run and your budget, it's important not to get left behind.
It is now easier and cheaper than ever to buy great quality technology at reasonable and competitive prices, to stay ahead of your competition.
Investing in technology:
• Protects your business from hackers and cybersecurity breaches
• Keeps your business up to date with your competition
• Boosts productivity
• Keeps employees and customers happy
• is competitively priced and more financially accessible than ever
• May even increase revenue
The Tech you Need to Check
If your desktops, monitors, laptops, servers or mobile technology are more than 3-4 years old, consider shopping around for newer models.
Also consider upgrading if your internet connections are so slow that they simply don't support all the new interconnected tech coming out these days!
Smartphones
iPhones last a minimum of 3 years, Android phones at least 2 years, so if your phone is older, consider an upgrade.
Plus, with five consecutive quarters of declining phone shipments on record, it's good news for you because smartphone prices have declined.
5G is coming, (although Samsung is one of the first providers already offering 5G in Australia) which helps you and enterprises managing large amounts of data and devices, improves speed and connectivity and security. 4G is still the predominant service but if you handle a lot of data, consider upgrading when 5G is made available.
Laptops
If your laptop is performing sluggishly or you've run out of storage space, then this can be solved by either increasing your computer's RAM or replacing its hard drive by buying individual parts. But if your business laptops are all suffering from the same afflictions, and are more than 4 years old, looking less than professional with their batters and bruises and you use it every day, maybe it's time for new ones?
To future proof as much as possible consider Intel Core i7 processor + 8G or 16GB RAM. Ultrabooks and tablets are great for Road warriors.
Lenovo X1 Carbon – Core i7 / 8GB / 512GB SSD – 35% off RRP – $2337.
https://store.exxa.tech/products/lenovo-thinkpad-x1-carbon-g5-20hra02cau-intel-i7-7500u-8gb-512g-ssd-14-inch-wqhd-4g-lte-win-10-pro-3yw-1195525
Microsoft Surface Pro – Core i7 / 16GB / 512GB SSD – 18% off RRP – $2715.
https://store.exxa.tech/products/microsoft-surface-pro-core-i7-7660u-12-3-inch-16gb-512g-ssd-wifi-bt-w10p-2yr-1197499
Desktops
If your desktop is lagging, you can upgrade its parts rather than replace it entirely, but this takes time as well as money. If the desktop is relatively new, say 2-3 years, consider upgrading its parts. If it's 3-5 years old, perhaps consider a replacement.
It also matters how you use your desktops of course, and whether they can support new technologies and the amounts of data you need to keep up with your customer demands.
Live out your hacker / stock broker dreams with two monitors. New Desktops can be super slim – see below:
HP Elitebook 800 G4 – Core i7 / 16GB / 512GB SD – 30% off RRP – $1512.
https://store.exxa.tech/products/hp-800-g4-dm-i7-8700t-16gb-512gb-ssd-w10p-64-3yr-1017423
Dell Optiplex 7060 – Core i7/ 8GB / 256GB SSD – 49% off RRP – $1330.
https://store.exxa.tech/products/dell-optiplex-7060-mff-i7-8700t-8gb-256gb-ssd-wl-acn-w10p-3yos-1158623
Monitors
Monitors have come a long way in the last few years in size and specifications with curved monitors and super widescreen versions.
If the monitor has bleeding led lights that discolour the sides of your monitor or dead pixels – it's a sure sign you need to upgrade. The 4K standard has overtaken HD so make sure you have at least a 4K monitor.
Ideally you need a monitor with the same or higher resolution than your laptop  / desktop so you can take full advantage of your graphics card.
Samsung 48.9″ superwide screen curved monitor for the ultimate desktop setup – 64% off RRP – $1204.
https://store.exxa.tech/products/samsung-49-inch-32-9-curve-led-3840×1080-5ms-dp-usb-c-hdmi-kvm-h-adj-144hz-3yr-1149636
Or for a great value 4K monitor – Dell P2415Q 23.8″ monitor – 15% off RRP – $604.
https://store.exxa.tech/products/dell-p-series-24-inch-16-9-uhd-ips-wled-3840×2160-6ms-hdmi-dp-usb-h-adj-3yr-1156377
Servers
Running production workloads on old servers can be slow and dangerous – can you really afford for your systems to go down?
New technologies such as PCIe SSD disks and the latest Intel core processors with many cores allow you to run many virtual servers on a much smaller physical box and save on those power bill.s
Dell EMC Poweredge R440 1U Rack server – Intel Xeon Silver 8 core / 1TB HD / 16GB RAM – 60% off RRP – $4476.
https://store.exxa.tech/products/dell-r440-1u-silver-41101-2-16gb1-16-1tb-sas-3-5-inch1-4-550w1-2-h730p-plus-3y-nbd-1017143
Lenovo – SR630 1U Rack – 2 x Intel Xeon Silver 8 Core / 64GB RAM + RAID controller – 30% off RRP – $6407
https://store.exxa.tech/products/lenovo-sr630-1u-silver-4110-8c-2-2-16gb4-24-2-5-inch-hs0-8-750w2-2-sr930-3yr-1023099
Please contact us to create a custom quote based on your requirements – Contact Us
Printers Faxes, Copiers
Is it really even a workplace if the buzz and hum of copiers and faxes isn't buzzing in the background? I think not.
However nowadays there are so many individual devices on the market that promise to print, scan, copy and fax your business documents, it's overwhelming.
Since it's nearly tax time, we thought we'd walk you through some options for your tech shopping list.
Why not consider bundling your scanners, fax machines, Wifi copier, and network printer all into one multipurpose printer? The suitability for your business would depend on the size of your company, but for a small to medium enterprise, it makes sense. Newer model multifunctional printers come as inkjet or laser printers, run more cost efficiently and are priced starting from under $100.
You should also consider upgrading if your current devices do not have new security features designed to prevent unauthorised usage or hacking, because yes, even your printers can get hacked these days.
If you need to upgrade your tech, here's our exclusive TAX TIME TECH SALE offer put in voucher code TAXTIME for free shipping.
Offer ends June 30th 2019, until stocks last.
*All prices are right at the time of the creation of this article – 1st May 2019. These prices will change depending on availability and supply.
Related Articles
Why Choose a Managed Services Provider to do your IT?